Jiufen is a small town at the top of a foggy mountain that faces the ocean.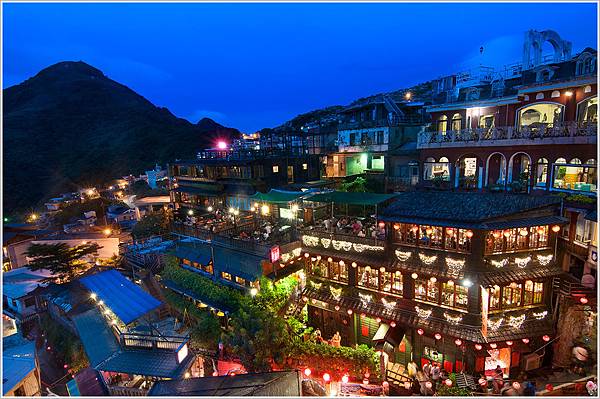 轉載自(自然顏色) http://www.pse100i.idv.tw/tp/9-Street/9-Street001.html
It has been pervaded by nostalgia for centuries. It is held dearly by locals, and has a very different meaning to each and every one, depending on age and culture.
The idle, but cultural atmosphere attracts many youngsters here reflecting to find an inner peace in mind,
or to write some articles over a cup of coffee or tea as the air here is so calming and soothing, it can even put an angry lion at ease.
It is also the birthplace of famous Taiwanese movies such as "A City of Sadness".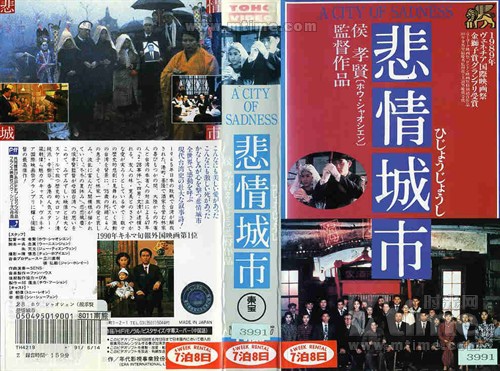 For tourists, this foggy town is also magical, because other than the Taiwanese old movie,
Jiufen also sparked the inspiration of Miyazaki Shun's blockbuster "Spirited Away"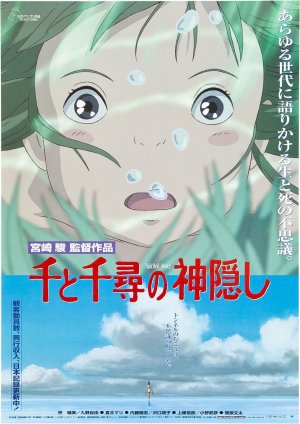 The town once thrived for gold and other minerals, but fell into decay after all the resources had been exhausted.
However, thanks to its magnificent scenery and the cultural flavor it boasts, Jiufen has flourished again, now in tourist industry.
Now, Jiufen has become one of the most popular tourist spots in Taiwan.
And you can find anything for everyone there, making sure no one, regardless of age or race will get left out.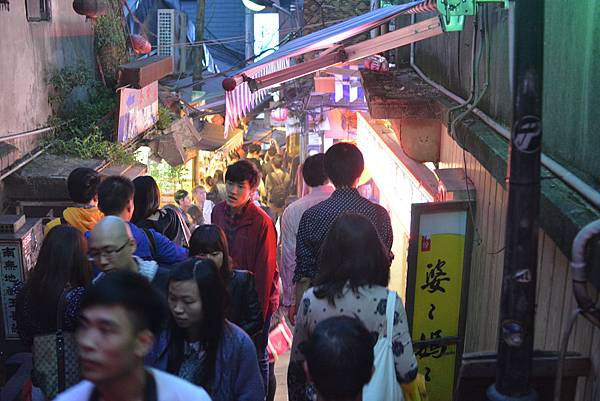 Firstly, though the prices at Jiufen are a little pricey compared to other places, it is still the perfect place to enjoy local cuisine,
as the vendors there have been around for a long time and are guaranteed authentic.
Along the narrow, old-school alley, you will find……
Fried King Oyster Mushroom (50NT)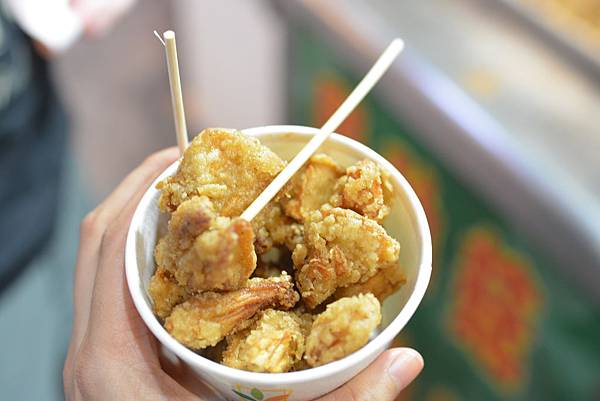 Crispy on the outside, juicy on the inside, it tastes perfect with pepper salt
(Actually, almost all Taiwanese fried food goes well with pepper salt!)
Peanut Ice Cream Wrap (40NT)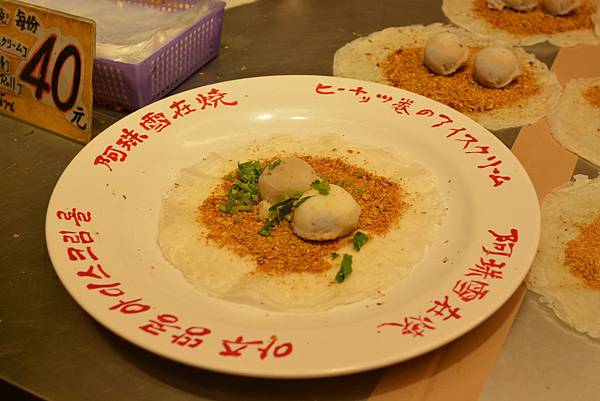 Originating from Yilan, the peanut ice cream wrap is like a subway sandwich with ice cream. The sweetness of the peanut shavings is well matched with the creamy ice cream and thin layer of wrap, making it taste like a dessert burrito. Definite must try!!
Tea Eggs (10NT)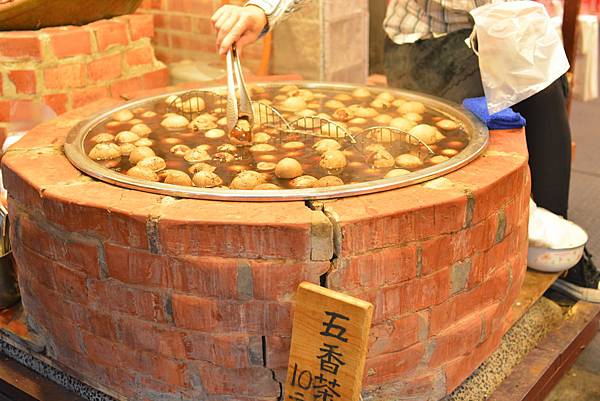 Tea eggs are ubiquitous over Taiwan, and can be found in every convenient store
. They are placed in such an adorable fashion, yet only cost 10 NT. How could you possibly resist it?
Anything related to old styles is likely to be found in this town.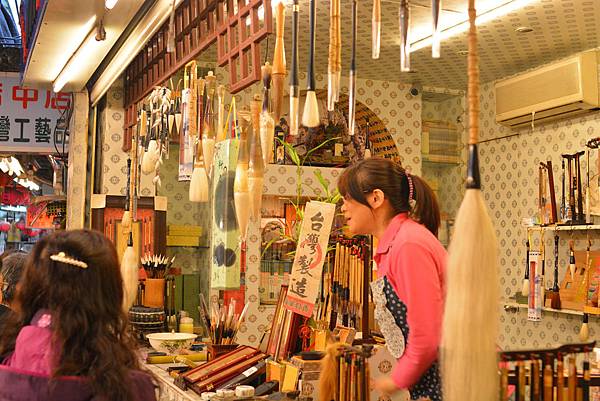 Yam or Taro Balls (Yu Yuen) (45NT)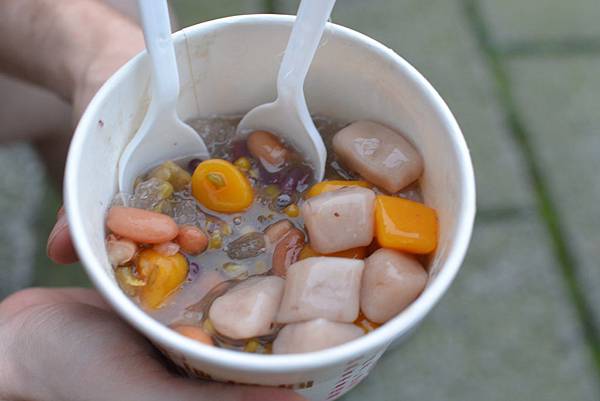 Yu Yuan is the iconic dish in Jiufen, especially in this restaurant(阿柑姨),which is located on the top of Jiufen sightseeing area.
So, when you see people going upstairs, you know they are definitely making the climb for these little balls of greatness!!
The restaurant is built as a viewing platform with indoor and outdoor dining area.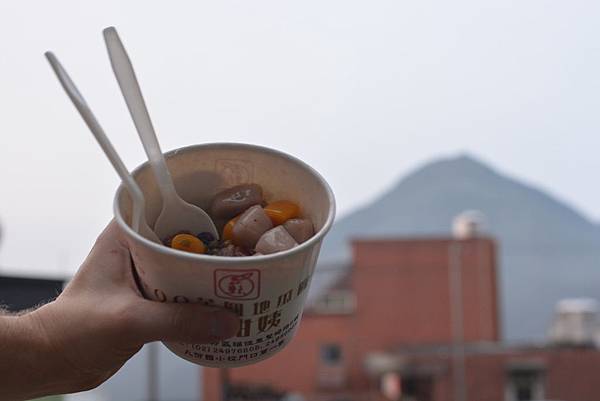 However to be honest, the flavor of Yu Yuen is not really impressive but is still satisfactory with its moderate sweetness and tasting.
On the way to the Yu Yuan restaurant, there are two shops worth visiting.
One of which is this, though I forgot the name of it.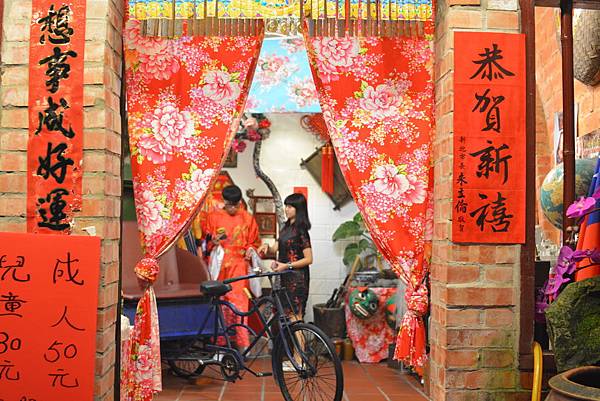 It's an oldies photo shop, which offers customer clothes in retro fashion, such as qupao, traditional Taiwanese outfit….
With the old-school decoration inside the shop, everyone can take several old-school-style photos with a super reasonable price of 50 per adult.
The second one called "Mud Man Wu',which promotes itself as a ghost face sculpture museum,
though it is rather small. In the shop, you can give more than 300 ghost faces a look,
and take pictures with them, quite funny. (25NT per person.)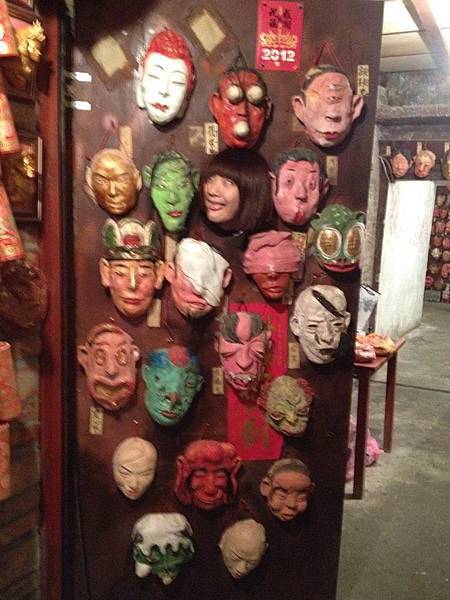 Spot my spastic ghost face!!
As you walk by the cliff, you can admire the scenery of the small village running down the mountain slopes to the sea.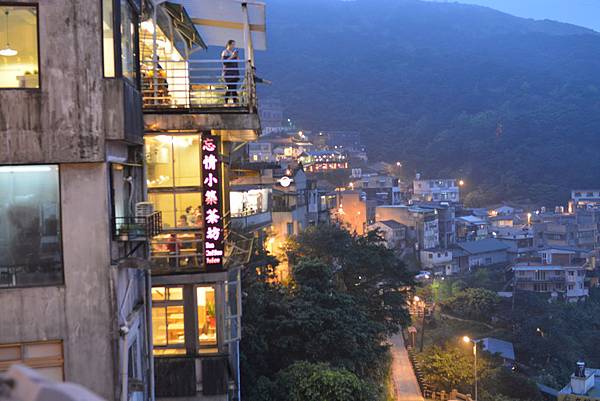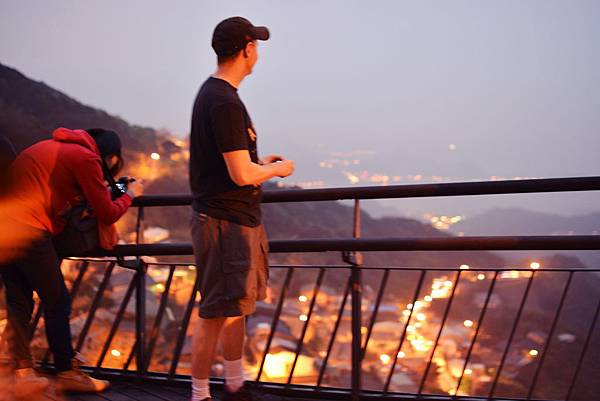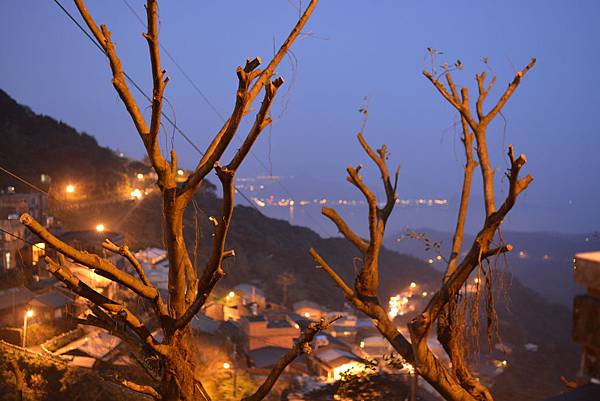 The view tends to be the most gorgeous during twilight, since at this moment; the sky fades into blurry blue,
while lanterns and street lamps are slowly illuminated.
This is the moment between day and night, and so is the moment of the juncture between human and ghost in the movie "spirit away".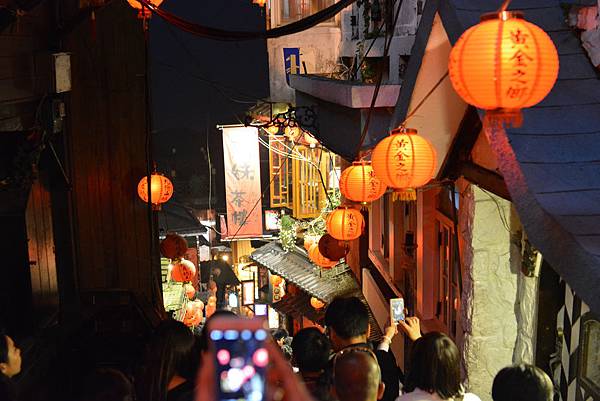 Doesn't this narrow alley make you think of the movie spirit away?
The tiny and narrow alley, decorated by two rows of lanterns ,is the most famous spot in Jiufen.
However, as I went there on a Saturday night, the crowd of tour groups and noise totally spoiled the atmosphere,
killing the serene and lustrous feel Jiufen has.
Thus, if you'd like to visit Jiufen with a relaxing mood, try your best to avoid weekends and Friday nights .
Otherwise, you will feel the commercial and tourist crowds rather than the pleasant retro complex of Jiufen.
transportation

opition 1.
take a nonstop bus (1062) at Zhongxiao Fuxing Station directly arriving at jiufeng. (45mins ,90NT)
opition 2.
take a train to Ruifang staion(52NT),transfer to a bus to jiufen(15) about 1.5 hour.